I have created this page for my project called XPI – a complete computer for less money and more power. With a 3D printed box for Raspberry PI 4 and a self-made power supply management controller board called XPI – you can order it here. Check it out! The basics are 1: A 3D printed box. 2: A power management board to control power from and to the Raspberry PI 4. 3: Your Raspberry Pi 4. This can give you a small computer with 8GB of ram and an SSD hard disk of 1 TB.

Short history
This begins in April 2020 with the design of model 1. This model had 3 LEDs in the front and a bunch of cables inside (not good). Autumn 2020 the release for model 2 sees daylight with almost the same box, but this time with an OLED display in front and a CD/DVD burner in front. In spring 2021 the release of XPI 3 see daylight – called model 3. This uses an extension board for the HDMI, audio jack, and USB-C port and this removes almost all the cables used in the past models. Cheaper, smaller, and better. Last, and final, model 4 (XPI4) is a smaller model that supports M2 SSD harddisks and the new HDMI extensions board that leave all output to the backside. But it also gives you an extra USB2 extension in front, with high power output – power is delivered directly from the powerlines, and goes not true the Raspberry Pi 4 lines.
The XPI cabinet
The box I 3D-printed was with a 0.8mm nozzle -to get speed. The complete box is printed in 4 to 5 hours. I use a 0.8mm nozzle on my 3D printer (Ender 3 pro) so it can be printed fast. I use a height of 0.6mm and 0.8mm width. This complete 3 layers at 1.8mm height and 2.4mm width. I have also included all components I use, like SSD plate, RPI plate, connectors plate, etc. So you can adapt to your style or equipment. See documentation for more information about this.
For the moment there are 3 models of XPI4, this is the model Fuzzy (green-yellow), Brown (red metallic-metallic dark blue), and Star (black and gold). 
OS and software

This system has been pretested with Manjaro OS for Linux. This is an excellent and extremely stable OS running under Aarch Linux – One of the newest OS with a lovely graphical interface and all of the newest software installed with a beautiful software installer – that's always grab the newest software to your box. This has proven high stability and CPU power trust to the Raspberry Pi 4 like any everyday Windows computer.
The concept of the design and functions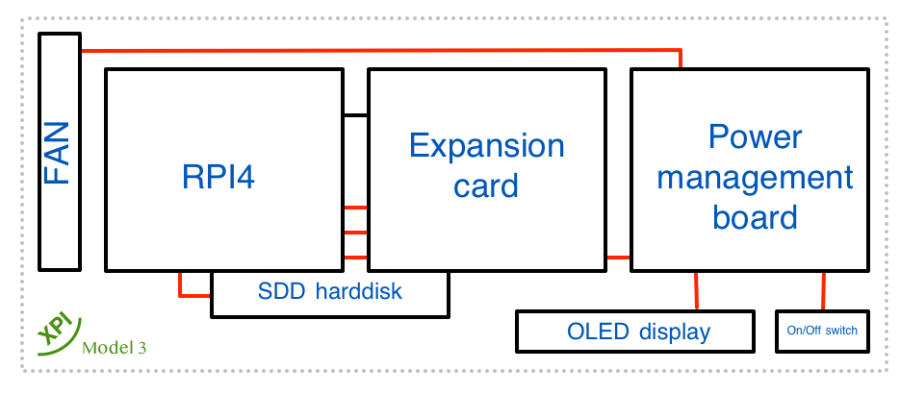 All important connectors at the backside.
Power in connector on the backside with a regular power plug connector.
Minimals of cables inside.
OLED display in front for info.
Reach Raspberry PI's internal SD Card reader in front.
Own safe temperature controller in the XPI power management board to check board temperatures and directly regulate the onboard fan with the proper fan speed – without using the Raspberry Pi temperature system.
Extra power strong USB2 port in front for a DVD burner or a second SSD disk for backup etc – this USB port is powered directly from the power line, and not through the Raspberry Pi 4 power system.
Own basket for SDD 2.5″ harddisks.
100% Safe power off and power on with the XPI Power management board.
THE POWER MANAGEMENT BOARD
Raspberry Pi 4 is a powerful computer that, in my opinion, is underestimated, especially in what it can be used to. There are countless opportunities for smart boxes for everything – without the expensive cost. Price is very important. When this is so low, it allows developers to experiment extensively, without spending hundreds of dollars for a couple of models.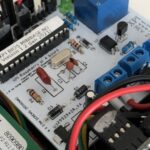 The stability of the Raspberry Pi 4 along with Manjaro OS is impeccable good against Windows and MacOs – which I use beside at the same time for my other work with computing. The principle is simple: first power the control board (XPI Power management board), then the Raspberry Pi 4. The power management board can tell Raspberry Pi when to shut down and then power of the system, and the Raspberry Pi can "tell" the controller board that it will turn itself off. Simple in principle.
The XPI Power Management Board are developed by (C) Morten Steenberg in 2020. The first public version was version 1.3, released in April 2020, next was version 1.5 in summer 2020, next was version 2.0 in December 2020, and the latest version 2.1, now i April 2021.

The idea was from an old simple similar circuit board with very poor current support and to small transistors to support the load (current). The most circuit I have seen is made for Raspberry Pi Zero – a long time ago and has not the ability to handle high power current.
Give it a chance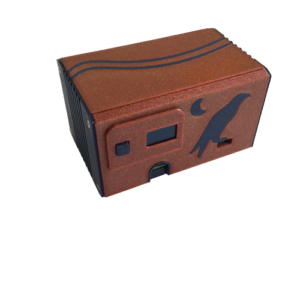 This has been 1 year with a lot of work, learning 3d design and meet the reality directly in electronics, design, and find practical solutions. I hope this cabinet can be created in real plastic one day and sold to many, and this can bring forward the simple and cheap way to learn and use computers creatively for all.
Investors are desirable.
Other files/links
Norwegian – veiledning installere rpi4 i xpi kabinett.
142