Welcome to my journey. A warm welcome to my website minibase.no. This website contains an overview of bits and bobs I'm doing and things that excite me and perhaps others? Here you also will find an updated list of the apps I've made and some stuff regarding my hobby as an amateur radio operator. You can also order, download, and get support for all my apps here. I also do some 3D-printing and have electronics as a hobby.
73′ de LB1QH Morten Steenberg
If you have have an inquiry for an app. Please click here

My page for Raspberry PI 4 and my power management board XPI
I have created my own page regarding only Raspberry PI 4 and my power management board, called XPI. Check out my page and download files to enhance your PI now! Click here
Annen informasjon om våre produkter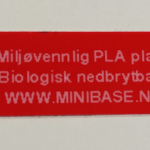 Har du funnet denne lappen på et produkt vi selger?
Klikk her for ytterligere informasjon om PLA plast produkter vi lager selv og selger- kortreist og et godt miljøalternativ.