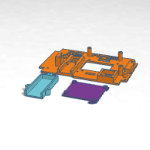 XVIM Standard INSERT PLATE P01
This is the main insert plate for XVIM, the standard model. This plate is designed for Khadas Vim 3 models. This release has also support for an SD Card reader and a "power-strong" external USB 2.0 port in the front. The plate is used with Khadas's New M2X Extension board. We mean this computer has to have support for a hard disk. Remember this stl file also need part 1b and 1c. We are working with support for the "3 buttons" on Vim.
UPDATES/FIXES:
Rev26 (22jan2022) : Screw holes on the front USB port, now pass through the plate.
Rev27 (27jan2022) : Fixed error on the USB port (USB port hole too big).